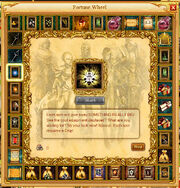 The Fortune Wheel is a randomized gift feature in Lords Online. Each spin of the wheel requires one chip.
Players get one chip daily for logging into the game. Players can also gift each other chips through the Free Gifts feature. Additional chips are available at the game store at 9 game coins each.
Ad blocker interference detected!
Wikia is a free-to-use site that makes money from advertising. We have a modified experience for viewers using ad blockers

Wikia is not accessible if you've made further modifications. Remove the custom ad blocker rule(s) and the page will load as expected.